Ken McLellan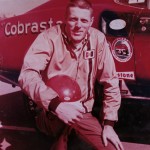 Ken McLellan, a Texas native, had an interest in racing from a young age. He began his racing career in 1962. He had numerous class wins and set national records during the following years, driving a super stock race car. He raced at several tracks across the U.S. including those in; Albuquerque, NM, Oklahoma City, OK, Amarillo, TX, Lubbock, TX, Hobbs, NM and Abernathy, TX.
In 1970, he won the Super Stock Division IV championship. In 1971, he competed against the top sixteen super stock racers from all over the United States and Canada to win the NHRA Super Stock World Finals in his famous multi-colored SS/G Mustang powered by the notorious Cobra-Jet 428 motor. McLellan went on to retire from his racing career in 1972 but attributes his success to his competitive nature and desire to win.
McLellan received the 1971 Good Guy Award and was inducted in the NHRA Division IV Hall of Fame in 1985.
McLellan and his wife Elizabeth reside in their home of 53 years in Friona, TX. They have 3 children and 4 grandchildren. McLellan is still active in his farm and continues to enjoy his hobbies including; motorcycles, drag racing, guns and photography.