"Click Here to Watch Geezer Crackle Fest Video "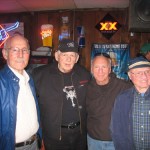 Ranchhouse Restaurant & Club (Sachse)
Dec. 12 (Saturday)
The Texas area Drag Geezers held their annual Christmas Luncheon at the Ranchhouse Restaurant & Club. The weather was a little chilly, but that didn't prevent a good crowd from visiting with some of the outstanding racers from the past. Two of Texas favorites, Bobby Langley and Vance Hunt, were there. There were also a couple of dragsters that were fired up to the delight of the crowd. If you are into drag racing history, this is an event that you don't want to miss. For more information about the Drag Geezers and upcoming events, go to: www.atinkersmotorsupply.com
By Don Cook
Fort Worth Star-Telegram


The Division 4 Hall of Fame is excited to announce the Inaugural Division 4 Hall of Fame T-Shirt. This one of a kind "Heritage and Tradition" shirt includes the Hall of Fame logo with two race cars on the front. The back of the shirt contains a list of all of the people that have been inducted into the NHRA Division 4 Hall of Fame. Don't miss this opportunity to be a part of drag racing history. This shirt can be purchased at all Texas Motorplex events or online at the Texas Motorplex Online Store.
From time to time we will be posting photos that we have and know very little about. If you know anything about the photos please email us at curator@division4halloffame.com or register for an account and leave us a comment on this photo.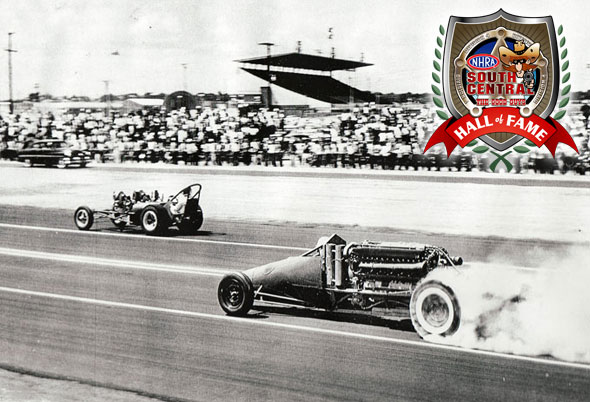 Who are the drivers? Who owned the cars? Where and when was the photo taken?
The south Central region of the US has a long and illustrious history of drag racers, and drag racing machinery prior to 1980. That history is reflected in the NHRA Division Four Hall of Fame, which until recently was housed in the pits at the Texas Motorplex.
The space demands of the modern National Event has taken that space, but Billy Meyer has embarked on a project to allow even more race fans to experience that history. To rejuvenate the Hall, the Motorplex is reaching out to living Hall of Fame members, and the families of those who have laid the groundwork for this sport.
If you are an NHRA Division 4 Hall of Fame member, or family member, please send your current contact information to:
Glenn Menard at: menard@texasmotorplex.com or curator@division4halloffame.com, or P.O. 1439, Ennis, TX 75120; or by fax 972-878-1848.
Glenn Menard
President
Texas Motorplex
Phone: 972-878-2641 Fax: 972-878-1848