Pel State Dragway – Opelousas, LA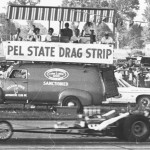 Located at the airport in Opelousas, Louisiana, Pel State was run by W.H. David (Daaa Veed) and his wife Jayne and the members of the Pel State Timing Association, a Lafayette, LA based car club. Since it was at an airport, the facilities had to be temporary in nature. The crew had to install fencing, PA and wire, and timing wire before each race meet on the second and fourth Sundays of the month. This led to some interesting down time when a dragster would leave the racing surface, make a trip through the grass, and take out the timing or PA which was laid on the ground.
Spectators sat in/on their cars behind the temporary wire fence (there were no guardrails). The track had plenty of length and width, and plenty of paved (concrete) pits. The "tower" was a platform and canopy situated on top of a 1951 Chevy 1 ton panel truck. Dave McClelland, a Television personality from Shreveport would make the trek to Opelousas, giving the track one of the most famous announcers in the history of the sport.
One of the most infamous neighbors of Pel State was across from the front gate. It was a social facility known as The Gate, although no racer would admit to ever frequenting the place.
The track opened on May 4, 1958, with 427 race cars and 2,200 spectators, and closed in 1968. David then participated in the construction of State Capital Raceway, which opened in 1970.